MagPro R30 With MagOption
Our customers can always expect the highest quality
Researchers and clinicians often use MagVenture's products in combination with products from other manufacturers. Our products are highly integrable with the solutions offered by Localite (neuronavigation), Brain Products (EEG) and Axilum Robotics (TMS Robots)
The MagPro R30 with MagOption can provide both biphasic and monophasic pulse waveforms, paired-pulses or twin-pulses, complex pulse firing patterns, and high frequency stimulation up to 30 Hz. With the same features as the MagPro R30 but with enhanced stimulation capabilities, it provides monophasic waveform and twin and dual pulses up to 5 pps (both monophasic and biphasic). Allows for storage of multiple stimulator setups, external control, and heat tolerance when preforming intense, focused, and repeated protocols. It has the same features as the R30 with additional advanced diagnostic capabilities.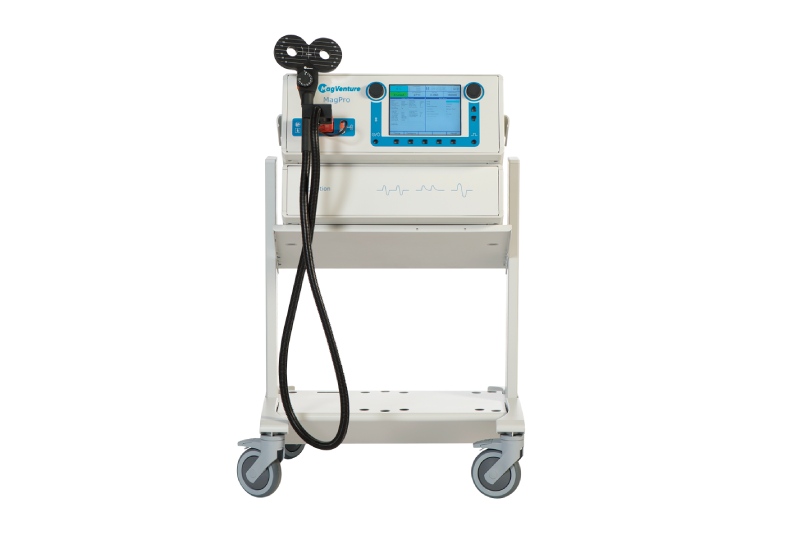 | | |
| --- | --- |
| Max repetition rate | 30 pps |
| Pulse mode | Standard, Dual, Twin |
| Waveform | Biphasic, Monophasic |
| Current direction | Normal |
| Ramp up | Yes |
Specifications
HxWxD
210x530x400 mm/ 8.3×20.9×15.7 in
MagOption:
130 x 530 x 400mm/5.1×20.8×15.7
Weight
Stimulator: 36 kg/79 lbs
MagOption: 28kg/62 lbs
| | |
| --- | --- |
| Operating temperature | 10-30°C/50-86°F |
| Storage temperature | 5-50°C/41-122°F |
| Operating humidity | 30-60% RH |
| Storage humidity | 20-80% RH |
Mains voltage
230V~,50/60 Hz according to IEC 60601-1
Maximum power consumption
2700 VA, operation from 100V~ or 120V~
through transformer
Intended use
Diagnostic Use
The MagPro R30 with MagOption is intended as an electro-physiological aid to assess diagnosis and to monitor diseases of the central and peripheral nervous system, based on the use of Motor Evoked Potentials (MEP).
Therapeutic Use
Treatment of Major Depressive Disorder in adult patients who have failed to achieve satisfactory improvement from two prior antidepressant medications, at or above the minimal effective dose and duration in the current episode.